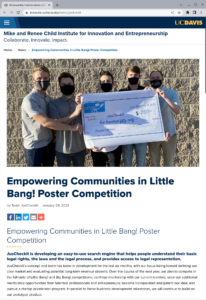 Empowering Communities with Accessible Legal Information – JusCheckIt is Changing the Game
At JusCheckIt, we're revolutionizing the way people access legal resources. Our mission is to empower individuals by providing them with easy-to-use tools that demystify the legal world. With our user-focused community forum, anyone can post their legal questions and guidance on how to tackle even the most complex issues.
Over the past six months, our dedicated team has been hard at work, refining our vision and exploring long-term revenue opportunities. We're excited to participate in esteemed competitions like Little Bang! and Big Bang!, where we can showcase our innovative approach. Through mentorship from industry professionals and continuous product development, we're building a strong foundation for success.
As we gear up for the upcoming Little Bang! Session 2, we're eager to interview lawyers and business owners to better understand their needs in legal research and client acquisition. By incorporating their valuable insights, we can fine-tune our offering and deliver a solution that truly addresses the challenges they face.
We've taken the feedback from the first session of Little Bang! to heart and are committed to refining our pitch. We understand that presenting our ideas succinctly and effectively is key to making a lasting impression on spectators, judges, and potential investors. We want to emphasize the social and economic innovation behind our concept, showcasing the positive impact it can have on individuals and communities.
Guided by our mentors, who bring a wealth of experience in law, consulting, investment advisory, and software design, we're constantly learning and growing as a team. Their insights have been instrumental in shaping our strategy and ensuring our continued progress.
After the competitions conclude in May, we'll take the next steps in our journey. We'll incorporate in California.. Our sights are set on joining a startup accelerator program that aligns with our vision, while simultaneously seeking seed funding to accelerate our growth. To achieve this, we're investing our time and energy into building relationships with local law firms and building the most efficient platform for lawyers to assist our users.
But our mission extends far beyond business success. At JusCheckIt, we're driven by the desire to make a genuine and positive impact on individuals in our community. We want to empower every person by providing them with streamlined access to accurate legal information, helping them understand their rights, and connecting them with trustworthy legal representation. Our goal is to create a stress-free and user-friendly legal space that informs, connects, and protects consumers from the complexities and uncertainties of the legal world.
Join us on this transformative journey as we empower communities, foster legal understanding, and build a brighter future for all. For more information or media inquiries, please contact: info@juscheckit.com